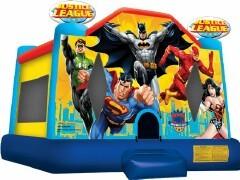 Justice League
Protectors of Justice Unite! Imagine the look on your childs face when he or she sees Superman, Green Lantern, Flash, Wonder Woman and Batman showing up to their party. Protecting the universe from the evil out there while allowing hours of fun inside for him/her and all their friends.
$99.95 for up to 6 hours. Events longer than 6 hours will be added an additional charge of $10 per hour
14' 4"L x 15' 4"W x 13' H Requires a 17'w x 19' L space.
Front Ramp To Aid in Entering/Exiting (not shown)
If location does not have a power source within 100 feet of the back of the unit, you will need to add a generator to your reservation