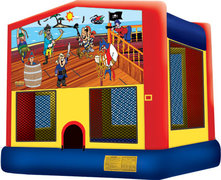 15 ft Treasure Island
Ahoy Matey Got some grub for these landlubbers do ye? The Captain has instructed the 1st mate to set sail for open waters so he and the crew can be there for your next event. Be ye ever so careful though, we don't need no stowaways...
$135 for up to 6 hours. Events longer than 6 hours will be added an additional charge of $10 per hour
14' 4"L x 15' 4"W x 13' H Requires a 17'w x 19' L space.

Front Ramp To Aid in Entering/Exiting

If location does not have a power source within 100 feet of the back of the unit, you will need to add a generator to your reservation

Coupon codes will not apply to fun bounces but will continue to apply to combos and above.