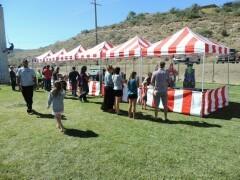 * 8 x 8 Carnival Booths *

Actual Size: 8' x 8'
Make your carnival authentic looking with these 8 foot x 8 foot striped carnival booths. Can be customized as you need them. Open fronts, open backs, skirted all the way around, with or without backdrops.
These fit perfect for a standard parking spot
Price is for each booth. Select the quantity amount that you need for your event.