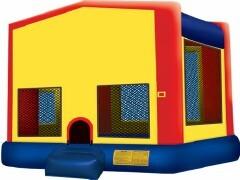 15 Foot Module Bounce House
For events without a theme this is a great choice to add to your event.
$110 for up to 6 hours. Events longer than 6 hours will be added an additional charge of $10 per hour
14' 4"L x 15' 4"W x 13' H Requires a 17'w x 19' L space.

Front Ramp To Aid in Entering/Exiting

If location does not have a power source within 100 feet of the back of the unit, you will need to add a generator to your reservation

Coupon codes will not apply to fun bounces but will continue to apply to combos and above.

Need more time for the kids stuck at home - SELF PICKUP AND SAVE: Select the time on friday that you want to pickup your item(s) as your start time (between 10 am and 4 pm) and then select next day and next day again to get you to Monday. Select the time you will be returning the item(s) (again, between 10 am and 4 pm). The cost is only $110. Select pickup when asked delivery or pickup. Once we confirm it, we will send you an email with self pickup instructions.