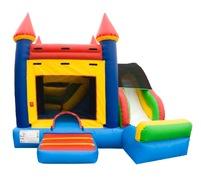 *Fun Castle Combo*

Outlets: 1

Age Group: 5 to 10

Monitors: 1
$139.95 for up to 4 hours $10 for each additional hour
The Fun Castle has the same design as the 3 in 1 combos but adds around 2 extra feet in depth and a slightly larger slide. The Fun Castle Combo adds some more fun to the original Castle Bounce House that started all the inflatable fun. Along with all the bouncing and jumping, now riders can enjoy a fun climb and slide down the 7.5 foot tall slide. With its unisex design, the Fun Castle Combo is suitable for any occasion. Design comes in a bright color theme that is sure to attract everyone nearby. For those that hop in, the 10'x10' bounce house is equipped with a basketball hoop for extra fun. Once riders have had enough bouncing for the moment, the wall climb will lead them to a fun slide out. The slide is guarded with high inflatable walls and an inflatable bumper at the end. The Fun Castle Combo is a fun attraction for the children to enjoy.
(Designed for children ages 5 - 10)
15' W x 19' L x 13.5' H (from front ramp to back wall)
Requires a 18' W x 22'L space
Netted Front & Sides on Bounce
(enter slide through bounce section)
Slide Sunscreen Top
(Prevents kids from falling off slide area)
Front ramp aids entering & exiting
Mini Basketball Hoop inside the unit
This is a DRY unit. Water is NOT allowed on this item.
Want to make your own banner for the top of the bounce? If you do, the size from left to right is 67 inches wide and from top to bottom is 19 inches high (velcro to velcro) with the bounce side being the hook or hard part of the velcro.
If location does not have a power source within 100 feet of the back of the unit, you will need to add a generator to your reservation
(If you entered the times of your event already, the prices shown will be for the full event.)