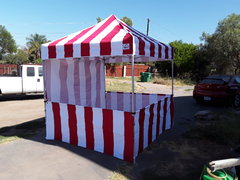 * 10 x 10 Carnival Booths *

Actual Size: 10'x10'
New units arrived 8/28/2019. These new units are a deeper red color than the old models (see photo of new on top of old) and best of all, made with materials that we can repair and replace when damaged unlike the older units.
Make your carnival authentic looking with these 10 foot x 10 foot striped carnival booths. Can be customized as you need them. Open fronts, open backs, skirted on front and sides, with or without backdrops. etc.)
Price is for each booth. Select the quantity amount to add the number of booths you wish to reserve.
If you need more than what's available let us know and we can see if we have more coming in before your event