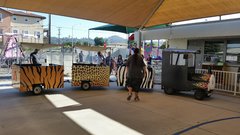 Trackless Train Ride
Price is for up to 2 hours. Additional hours are $100 per hour.


A $1.25 per mile ($25 minimum) travel fee applies to this item and will be refleced on the updated invoice after we process the mileage.
Each car has a different animal pattern (zebra, tiger, Leopard), padded seats and redwood stained wood flooring. The tops shown have been removed for a new replacement hard top version that has yet to be completed. At this time, all cars are open top (like the zebra print one shows.)
Carries up to 20 passengers (both kids and adults are encouraged to ride.)
Requires a 15' turning radius and must be used on a hard, flat, level surface.
Check out a video of the train in action at
http://www.youtube.com/watch?v=dCp9e7xo_jw
(older version of the train cars shown)
Comes with 1 driver
***If this item is already reserved for your date, please call the office to see if we have time to go from that event to yours***
If your having a large event and are on a limited budget, call us for information on our equipment rental / commission options.