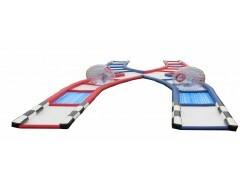 The Crossover
$999 for 4 hours. $150 each additional hour.
This race track is an absolute blast for kids and adults of all ages! The C4 (Criss Cross Collision Course) is a whopping 100' long and has nearly 250' of racing lane action. The game can competitively accommodate 2 Zorbs at a time and is filled with obstacles and varied terrains. For an added splash, the C4 has four water traps that can be filled with a couple of inches of water that add a whole new dimension to the game! When the player transitions from the dry track to the water trap, they hydroplane over the water and can lose traction allowing them to slow down and even lose total momentum, causing them to spin without gaining any ground for a short time. This can be all that is required for the other player to catch up and pass the other player. The game operator as well as spectators can stand near the middle of the game and have a clear view of the players as they race to victory lane. Hours and hours of fun!
Due to the nature of this activity, this is a great piece to use at your next school carnival, pep rally, team building event and church festival. The zorbs stay inflated allowing the players to enter and exit faster than the old style hamster balls. The players race against each other making the event go faster and you can have lines at all 4 ends making it a great center piece at your event.
Dimensions: Length: 100' Width: 33' Height: 7' Weight: 537 lbs.
This unit requires 1 15 amp 110 volt outlet (standard house outlet) to inflate the Crossover. The Zorbs are sealed and only need to be inflated once unless they experience some air loss.