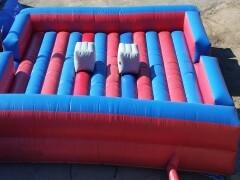 Gladiator Joust 2

Outlets: 1
***** THIS ITEM HAS BEEN DISCONTINUED. A NEW JOUST IS ARRIVING SOON ****


$279.95 for 4 hours $20 each additional hour
Do you remember "King of the Mountain" where you fought to get to the top and again to stay there? Well, this is almost the same. Using your foam filled, vinyl covered battle stick, you must fend off your opponent while making him or her fall off the pedestal and onto the mat below.
This unit uses inflatable pedastals (like the ones in the Wreckingball Inflatable). This adds another form of excitement since the pedastals can rock back and forth while you are trying to knock your opponent off his or her pedastal.
30' x 30' space required.
If location does not have a power source within 100 feet of the back of the unit, you will need to add a generator to your reservation