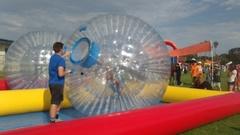 Dual Zorbs
$599.95 for 4 hours. $100 each additional hour.
Don't have room for the crossover but want to have the thrill of racing in a zorb against your Friends? Then this is the one for you. At only 50 feet long and 23 feet wide, it fits in many more locations.
Comes with 1 operator to run the units. You can provide a staff to assist if you want to speed it up some or you can see if we have another staff available ($25 per hour with a 4 hour minimum)
Due to the nature of this activity, this is a great piece to use at your next school carnival, pep rally, team building event and church festival. The zorbs stay inflated allowing the players to enter and exit faster than the old style hamster balls. The players race against each other making the event go faster.
Dimensions: Length: 50' Width: 23' Height: 7' Weight: lbs.
This unit requires 1 15 amp 110 volt outlet (standard house outlet) to inflate the Crossover. The Zorbs are sealed and only need to be inflated once unless they experience some air loss.