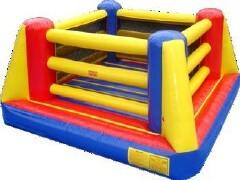 Boxing Ring
$199.95 for up to 4 hours. $20 for each additional hour
Its time to put on these big oversized foam filled vinyl gloves and see who can make it to the end of the round.
Play 1 round or 3, you'll be too tired to do more!
Do you have what it takes?
Only time will tell
2 players compete at a time in this laugh a minute event.
18' 4" W x 18' 3"L x 8' 8"H.
If location does not have a power source within 100 feet of the back of the unit, you will need to add a generator to your reservation