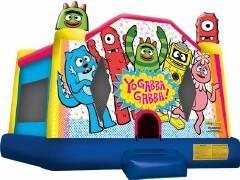 Yo Gabba Gabba
Right from Nick Jr to your next event. Yo Gabba Gabba is here to entertain your birthday child and his or her friends. Let Muno, Plex, Foofa, Toodee and Brobee join you at your next event.
$99.95 for up to 6 hours. Events longer than 6 hours will be added an additional charge of $10 per hour
12' 4" L x 13' W x 12' 8" H Requires a 16' W x 18'L x 13'H space
Front Ramp To Aid in Entering/Exiting (not shown)
If location does not have a power source within 100 feet of the back of the unit, you will need to add a generator to your reservation
Due to increased costs, we are faced with removing the regular bounces or raising their rates like other companies have done. We choose to keep the rates the same but regular Fun Bounces will no longer be able to get discounts.