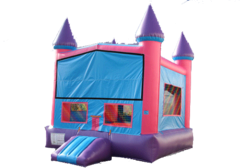 Pink Castle
Perfect for your little Princesses birthday.

Same day rentals - $135 for up to 6 hours. Events longer than 6 hours will be added an additional charge of $10 per hour

*New program* Need more time? Equipment going into a backyard or other secure location? If yes, we now offer a weekend rental on this item. Saturday and Sunday rentals - Only $200. We drop off on Friday and pickup on Monday. Select Multi day, put 8 pm as the start time on Friday and 8 am as the end time on Monday. If the items says unavailable during any of those hours, it means it is already reserved and the reservation will not be approved when we update it. If you see that, select a different bounce that is available. When we see it, we will revise the reservation to show the $200 price and send you the revised reservation form.
Need a theme? This unit can accept any of the themes that are shown on the other 13 foot modular units (red and blue bounces.) Just put the theme in the comments box. If it is available, we will revise your reservation and send you a revised contract.
14 ft 4 inches Long x 13 foot 3 inches Wide x 13 foot high. Requires a 16 foot wide space x 17 foot long space
Front Ramp to Aid in Entering / Exiting
Unit comes with a basketball hoop inside. We recommend using a nerf small size ball or an under inflated small ball for safety.
If location does not have a power source within 100 feet of the back of the unit, you will need to add a generator to your reservation.
Coupon codes will not apply to fun bounces but will continue to apply to combos and most other items.