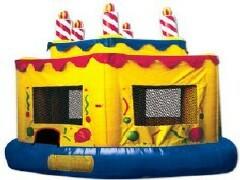 Birthday Cake
Perfect for boys and girls. Our Birthday Cake is sure to light up your next event.
$130 for up to 6 hours. Events longer than 6 hours will be added an additional charge of $10 per hour
15' 6" x 14' 6" H. Requires a 20' circle area
Front Ramp To Aid in Entering/Exiting

If location does not have a power source within 100 feet of the back of the unit, you will need to add a generator to your reservation

Coupon codes will not apply to fun bounces but will continue to apply to combos and above.