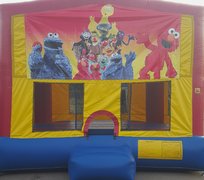 15 ft Sesame
*** New units December 2018 ***
In our ongoing effort to bring you the latest items we have teamed up with another company to offer themes that we do not carry.
For events with a Sesame theme this is a great choice to add to your event.
$99.95 for up to 6 hours. Events longer than 6 hours will be added an additional charge of $10 per hour
14' 4"L x 15' 4"W x 13' H Requires a 17'w x 19' L space
Front Ramp To Aid in Entering/Exiting
If location does not have a power source within 100 feet of the back of the unit, you will need to add a generator to your reservation
This item is available in the 13 foot themed, 15 foot themed, Pink Castle themed and the 4 in 1 Themed units.