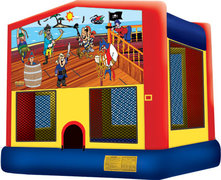 13 ft Treasure Island
Ahoy Matey Got some grub for these landlubbers do ye? The Captain has instructed the 1st mate to set sail for open waters so he and the crew can be there for your next event. Be ye ever so careful though, we don't need no stowaways...
$130 for up to 6 hours. Events longer than 6 hours will be added an additional charge of $10 per hour
14' 4"L x 13' 3"W x 13' H Requires a 16' w x 17' L space.

Front Ramp To Aid in Entering/Exiting (Not Shown)

If location does not have a power source within 100 feet of the back of the unit, you will need to add a generator to your reservation
Coupon codes will not apply to fun bounces but will continue to apply to combos and above.

Need more time for the kids stuck at home - SELF PICKUP AND SAVE: Select the time on friday that you want to pickup your item(s) as your start time (between 10 am and 4 pm) and then select next day and next day again to get you to Monday. Select the time you will be returning the item(s) (again, between 10 am and 4 pm). The cost is only $130. Select pickup when asked delivery or pickup. Once we confirm it, we will send you an email with self pickup instructions.