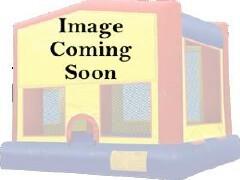 13 ft Little Pony
In our ongoing effort to bring you the latest items we have teamed up with another company to offer themes that we do not carry.
For events with a Pony theme this is a great choice to add to your event.
$110 for up to 6 hours. Events longer than 6 hours will be added an additional charge of $10 per hour
14' 4"L x 13' 3"W x 13' H Requires a 16' w x 17' L space.
Front Ramp To Aid in Entering/Exiting
If location does not have a power source within 100 feet of the back of the unit, you will need to add a generator to your reservation
Theme is available for the following: 13 foot themed, 15 foot themed, Pink Castle Themed and 4 in 1 Themed
Due to increased costs, we had to raise our rates on our Fun bounces (first time since 1995)
Coupon codes will not apply to fun bounces but will continue to apply to combos and above.