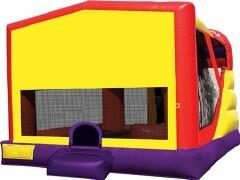 4 In 1 Themed Module Combo
$159.95 for up to 4 hours $10 each additional hour
Larger than the 3 in 1 is our 4 in 1. Complete with a larger bouncy area, taller climber and internal slide and a basketball hoop on the inside back left tower.
Mini Basketball Hoop inside the unit.
Offering the same fun as the other 4 in 1's, this module is designed to accept a variety of themes.
Choose just this unit plain if you don't want a theme for your event
Front Ramp To Aid in Entering/Exiting
18'4"Lx15'10"Wx14'6"H requiring a 21' L x 20'Wx16'H area.
This is a DRY unit. Water is NOT allowed on this item

If location does not have a power source within 100 feet of the back of the unit, you will need to add a generator to your reservation

(If you entered the times of your event already, the prices shown will be for the full event.)