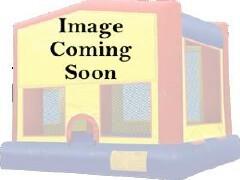 4 in 1 Themed - Cars
$159.95 for up to 4 hours $10 each additional hour
In our ongoing effort to bring you the latest items we have teamed up with another company to offer themes that we do not carry.
All reservations are subject to availability but we have been ensured that we are able to offer without a problem but if there ever is a problem, we will notify you right away.
The gangs all here and their engines are reving for the next great race around Radiator Springs. Why don't you come on down and
enjoy the festivies.
Larger than the 3 in 1 is our 4 in 1. Complete with a larger bouncy area, taller climber and internal slide and a basketball hoop on the inside back left tower.

Mini Basketball Hoop inside the unit

Front Ramp To Aid in Entering/Exiting (Not Shown)

18'4"Lx15'10"Wx14'6"H requiring a 21' L x 20'Wx16'H area.



This is a DRY unit. Water is NOT allowed on this item

If location does not have a power source within 100 feet of the back of the unit, you will need to add a generator to your reservation

(If you entered the times of your event already, the prices shown will be for the full event.)