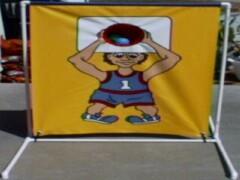 Basketball Toss

Outlets: 0
The game is on the line, you have an open man. Can you throw him the ball before time runs out?
Using Mini Basketballs or beanbags, try to throw them into the arms of your teammate.
**Self Pickup and save - 3 games for $60 (choose from all games listed at same price.) Call for details.