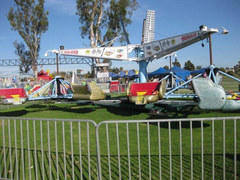 Sizzler Ride

Actual Size: 55 ft circle

Setup Area: 60 ft circle
$4500 for up to 4 hours $300 for each additional hour

***$500 additional fee applies if reserving for October 31st and will reflect in the updated invoice after we process it.***

*** This item is no longer available for July 4th and December 31st events ***

(You can select the time you want this equipment during the event when you "book" and the corrected price will be displayed.)

The rider sits in the Sizzler Cars and then the cars move in a scrambling motion.

A 60 Foot Circle is required for this ride

Sizzler Amusement Ride Size Restrictions
• 48" To Ride Solo
• 42" With Guardian

Comes with 1 operator
To ensure delivery is possible for all events, company policy is to deliver the equipment the day before the event and to remove the equipment the day after. If this is not possible, ask us to see if the schedule allows for same day.
This item is very heavy and moved with a semi truck. If you intend on placing on a soft surface, such as grass, water sprinklers need to be turned off in advance ( 7 days in winter and 3 days in summer.) If the truck or ride gets stuck becuase the surface is too wet, a wrecker truck will be needed to pull them out and the cost will be added to your reservation.


Funbounce.com offers some equipment from other companies usually at the same pricing they offer to the public. We do this as a service to you, the customer, to make your research quick and easy for your event. We want Funbounce.com to be the only name you think of when needing party rental equipment. This equipment is owned by another company and is not part of our inventory. You agree by requesting this item, Funbounce.com is not responsible for the actions or results of using this equipment at your event and is in no way responsible for any accidents, injuries or actions caused by the other company.


This is a non owned company piece where we work with the owner to offer this product to you. We will confirm availability and finalize your reservation after doing so.