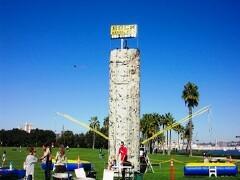 Rock Wall with Pods Combo
Our 25' Combo Wall with two Extreme Air Jumpers will be a total blast at your next special event! Over the years, you may have even seen this unit at the Mira Mar Air Show, LEGOLAND or THE SAN DIEGO ZOO and THE WILD ANIMAL PARK. Call us now as we are quickly booking our Extreme Airs and Combo walls for the Spring, Summer and Fall seasons.
This wall accomodates users from 40 pounds to 200 pounds.
The Combo Wall is a 25' rock climbing wall with 4 climbing routes and 2 extreme air trampolines connected to it. Six people can participate on the attraction at the same time. This unit requires a dedicated 20 amp circuit within' 50' and will require a larger operating footprint, call for details.
We will require a trailer accessible event site with level ground and no overhead obstructions please. We will need room for the truck to tow / maneuver the Combo Rock Wall trailer into position. Please call us with any questions regarding event site accessibility limitations. We include 2-3 staff members with the Combo Wall rental and request a couple volunteers to assist at the busier large events.
Can't provide volunteers... no problem, with advance notice, we can provide additional staffing for $35 per hour.
No electricity at the event site... no problem, we can provide generator rentals for an additional fee.
35 Feet Deep x 45 Feet Wide x 28 Feet High
25' Combo Rock Wall HOURLY RENTAL RATES:
2 Hours - $1100
3 Hours: $1625
4 hours: $2000
5 Hours $2500
6 Hours - $3000
7 Hours: $3325
8 Hours: $3800
9 Hours: $4275
10 Hours: $4750

Delivery fee: $1.75 per mile round trip from

851 Showroom Place Chula Vista,CA


Generator Rental: $75
If your having a large event and are on a limited budget, call us for information on our equipment rental / commission options.
Funbounce.com offers some equipment from other companies usually at the same pricing they offer to the public. We do this as a service to you, the customer, to make your research quick and easy for your event. We want Funbounce.com to be the only name you think of when needing party rental equipment. This equipment is owned by another company and is not part of our inventory. You agree by requesting this item, Funbounce.com is not responsible for the actions or results of using this equipment at your event and is in no way responsible for any accidents, injuries or actions caused by the other company.
This is a non owned company piece where we work with the owner to offer this product to you. We will confirm availability and finalize your reservation after doing so.