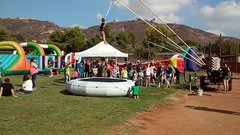 Pods - 2 Station

Outlets: 2
We are able to set all 2 stations in just 30 minutes! We can have up to 2 people jumping at one time. Heights of 20' above the ground can be reached. Parents get a real kick out of watching their kids have a blast. Try out our extreme air bouncing equipment to practice your cheerleading stunts or simply for fun exercise. The footprint is approximately 60'x 60'.
If the location does not have a power source within 100 feet of the back of the unit, you will need to add a generator to your reservation.
Pricing for a 2 hour event:
2 Stations - $679
Add $150 per hour for events up to 6 hours
A $1.35 per mile ($25 minimum) travel fee applies to this item.