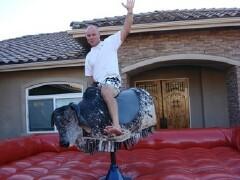 Mechanical Bull Ride
$600 For the first 2 hours $150 each additiona hour
(If you entered the times of your event already, the price shown will be for the full event.)
(You can select the time you want this equipment during the event when you "book" and the corrected price will be displayed.)
Whether you are a seasoned pro, or just keen for a thrill you can experience the thrill of an eight second ride without the FLIES, DUST and DANGER.
All ages from 3 – 70 years regardless of their ability can now enjoy the thrill of BULL riding.
Pricing: $600 for 2 hours. Each additional hour is $150.
$1.25 per mile (round trip) transportation fee will be charged.
We can additionally insure you and / or your company at your request (additional fee applies.)
Level ground and a 21' x 21' footprint is required. Also, 220 volt ac or 120 volt ac with a minimum of 20 amp service is required within 50' of the control panel.
This bull has real hide!
If location does not have a power source within 50 feet of the back of the unit, you will need to add a 5500 watt or higher generator
Funbounce.com offers some equipment from other companies usually at the same pricing they offer to the public. We do this as a service to you, the customer, to make your research quick and easy for your event. We want Funbounce.com to be the only name you think of when needing party rental equipment. This equipment is owned by another company and is not part of our inventory. You agree by requesting this item, Funbounce.com is not responsible for the actions or results of using this equipment at your event and is in no way responsible for any accidents, injuries or actions caused by the other company.
This is a non owned company piece where we work with the owner to offer this product to you. We will confirm availability and finalize your reservation after doing so.