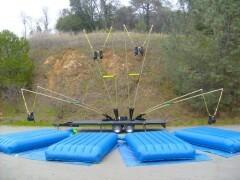 Extreme Air - 2 Station

Outlets: 2
The mobile Extreme Air is the only jumper product on the market that uses patented fiberglass pole technology (Flex Pole Technology), allowing operation of the equipment without cumbersome turn buckles and bungee cords. The dynamic fiberglass pole technology supports a wide range of weights, eliminating the mounds of harness sizes and complex bungee-to-weight ratios needed in order to operate other jumper devices.
A Custom wireless remote control gives the operator freedom and the opportunity to change or enhance the ride at will, giving the power to provide a fun and thrilling experience. The operator has complete control over the participants, allowing young children to bounce freely or provide assistance to jumpers by raising them higher in the air.
This product is perfect for corporate events, military recruiting, malls, fairs, farmer's markets, marketing and promotions, zoos, resorts, waterparks, street fairs, carnivals, church festivals, schools and anywhere you can fit an air jumper.
If you don't have the room for a full size 4 station setup, this is the unit for you. We reduce it to a 2 station using only the center two stations. Setup size for a 2 station is 30 feet wide by 55 feet long.
Pricing for a 2 hour event:
2 Stations - $679
Add $200 per hour for events up to 6 hours
Add $150 per hour for events 7 hours and longer
2 separate breakers are needed to run this item. A
20 amp
withing
50 feet
of the back of the unit and a
15 amp
withing
100 feet
of the jump pads. If power is not available, you can add the
INLINE
QUIET
generator to the order. The cost for this generator is $75.
A $1 per mile ($25 minimum) travel fee applies to this item.